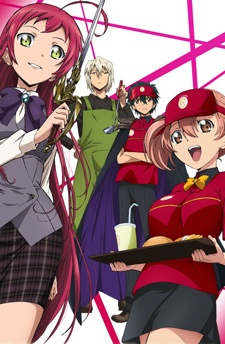 Devil King Sadao is only one step away from conquering the world when he is beaten by Hero Emilia and forced to drift to the other world: modern-day Tokyo. As "conquering the world" are the only skills the Devil King possesses—and are obviously unnecessary in his new situation—he must work as a freeter to pay for his living expenses!
English: The Devil is a Part-Timer!
Japanese: はたらく魔王さま!
Information
Type:
 TV
Episodes:
 13
Status:
 Currently Airing
Aired:
 Apr 4, 2013 to Jun 27, 2013
Producers:
 FUNimation Entertainment
L
, Lantis, Pony Canyon, White Fox
Genres:
 Comedy, Demons, Fantasy, Romance, Shounen
Duration:
 24 min. per episode
Rating:
 PG-13 - Teens 13 or older
Episode 1

Episode 2

Episode 3
Episode 4
Episode 5
Episode 6
Episode 7
Episode 8
Episode 9
Episode 10
Episode 11
Episode 12
Pa move na lang po sa mga download's
-Salamat!
APH Level 1





Comments : 14
Credits : 25677
Kudos Received : 0
Location : Little Garden
Join date : 2013-06-15

---



As requested the topic will be moved
This is the thread where uploader's put their anime's
[You must be registered and logged in to see this link.]
The Genius Otaku of Anime PH




















Comments : 3524
Credits : 36184
Kudos Received : 27
Join date : 2013-03-08

---

My Pet :





---
Permissions in this forum:
You
cannot
reply to topics in this forum